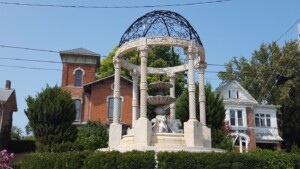 Welcome to the Cass County Visitors Bureau's Pop-Up Art and History Trail. Click play to begin.
Bankers Row & Italian Fountain in Cole Park
Eel River Avenue
The Banker's Row Historic District is located along the north side of Eel River Avenue from Market Street to Third Street. The residential area developed along the Eel River from the 1860's through the 1900's and is named from the fact that at least four Logansport bank presidents lived here at one time. The predominant architectural style of the street is the Queen Anne style. The district is listed on the National Register of Historic Places as a "unique collection of notable examples of architectural styles in a midwestern community" and the story they tell of the town's great commercial/industrial heyday, during the 19th and early 20th centuries.
The Italian Fountain in Cole Park is a reminder of the important role that Italian immigrants played in the history of Logansport. Arriving in substantial numbers during the first two decades of the 20th Century, many immigrants from Italy worked in the quarries west of town and for the railroads, and also as retail merchants and in many other occupations.
Renovations to Cole Park were accomplished through a partnership between Logan's Landing Main Street Association, the City of Logansport and Parks Department, and Mr. and Mrs. Milt Cole and were honored with an Indiana Main Street Design of Downtown Public Improvement Award in 2008.
The Pop Up Art and History Trail is presented by the Cass County Visitors Bureau in partnership with Logan's Landing, the Cass County Historical Society, the City of Logansport and Cass County Communication Network (published by Existential Media LLC) as a way to encourage residents and visitors to learn more about our community's history and local attractions.
The Pop Up Art and History trail was funded through a Quick-Impact Placebased Grant from the Indiana Office of Tourism Development and the Indiana Office of Community and Rural Affairs.