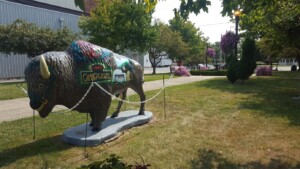 Welcome to the Cass County Visitors Bureau's Pop-Up Art and History Trail. Click play to begin.
Heritage Preservation Park
400 Block of East Market St.
Heritage Preservation Park was developed in 1988 with the help of the Chamber of Commerce and the Cass County Realtors Association. Amenities include a gazebo, historic fountain, electric outlet pedestals, a drinking fountain, extensive landscaping and tree plantings, planters and benches.
The Heritage Fountain was restored and installed in the fall of 2002. This fountain was originally built by the J.W. Fiske IronWorks of New York City. From the 1930's until the 1970's, the fountain was located in front of the old Cass County Courthouse. In the 1970's, it was removed during the construction of the present day courthouse. The fountain was discovered in local barn in a state of disrepair in the 1990s. Students of the Century Career Center started the restoration of the fountain. The restoration was then completed by Tim Grigsby at the T.M. Morris Manufacturing Plant.
The Indiana Association of United Ways coordinated the "Bison-tennial Art Project" featuring five-foot tall bison during Indiana's Bicentennial in 2016. Cass County's bison, named Willard, was decorated by Amy Werner's art students at Logansport High School. It includes various symbols that represent Cass County, including Felix the Cat (the state's oldest high school mascot) and a train. Willard traveled to the Indiana State Fair in August 2016 where he was displayed along with bison from other counties.
The Pop Up Art and History Trail is presented by the Cass County Visitors Bureau in partnership with Logan's Landing, the Cass County Historical Society, the City of Logansport and Cass County Communication Network (published by Existential Media LLC) as a way to encourage residents and visitors to learn more about our community's history and local attractions.
The Pop Up Art and History trail was funded through a Quick-Impact Placebased Grant from the Indiana Office of Tourism Development and the Indiana Office of Community and Rural Affairs.