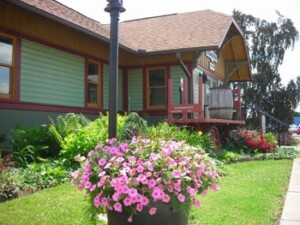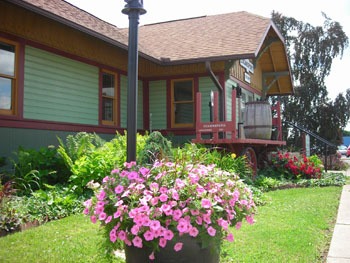 Welcome to the Cass County Visitors Bureau's Pop-Up Art & History Trail. Click play to begin.
Iron Horse Depot – 4th and Melbourne
The Iron Horse Depot was a yard office that was constructed around 1853 near the Vandalia Depot on Water Street and later moved to the 18th Street rail yards. In 1981, the City of Logansport purchased the building for $1, and the Depot was loaded by cranes onto a flatbed railcar and moved to this location, previously the site of the Pennsylvania Railroad's 2-story main station that was demolished in 1968.
The Depot housed the Chamber of Commerce for a short time, and also served as a bus station and ticket office and headquarters for the Iron Horse Festival.
Today, it houses railroad memorabilia and is open by appointment. The office of Logansport's downtown revitalization organization, Logan's Landing, which is a state and nationally accredited Main Street organization is located in The Depot. It's also the office of the Cass County Arts Alliance, a partnership of Civic Players of Logansport, the Performing Arts Council of Logansport, Logansport Art Association, and the Cass County Arts Alliance.
The Iron Horse Depot is an excellent example of the simplified Stick Style commonly used for depots.
Look for other examples of Logansport's railroad heritage throughout the downtown district, including the railroad signal bridge to the south at Little Turtle Waterway and a photo display featuring the historic 765 locomotive at the northwest corner of 4th and Market Streets.
The Pop Up Art and History Trail is presented by the Cass County Visitors Bureau in partnership with Logan's Landing, the Cass County Historical Society, the City of Logansport and Cass County Communication Network (published by Existential Media LLC) as a way to encourage residents and visitors to learn more about our community's history and local attractions.
The Pop Up Art and History trail was funded through a Quick-Impact Placebased Grant from the Indiana Office of Tourism Development and the Indiana Office of Community and Rural Affairs.