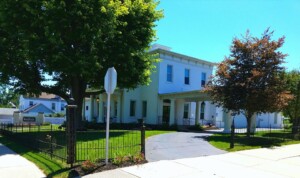 Welcome to the Cass County Visitors Bureau's Pop-Up Art & History Trail. Click play to begin.
Kroeger Funeral Home/Fitch-Coleman House
711 E. Market St.



This house, now Kroeger Funeral Home, was built in the 1840s by Graham Fitch, a medical doctor and United States Senator. The bricks used in the construction of this house came from England and were transported across the Atlantic Ocean, traveling from New York to Logansport on the Wabash and Erie Canal. The Italian marble fireplaces in the front parlors came from Italy in the same manner. The Federal-style structure was remodeled in 1888 to add the front porch and front door on the north side of the house in a Classical Revival style of architecture. When this house was originally built it faced Seventh Street as the Market Street we now see in the front of the house did not yet exist. The Fitches had an unobstructed view of downtown Logansport from the upper parlor windows until the house immediately west was constructed on a raised elevation which blocked the view. It is reported that this house was a stop-over on the Underground Railroad as a temporary refuge for slaves from the South seeking freedom in Michigan and Canada. As a politician Graham Fitch was strongly opposed to slavery and provided his house as a place of rest for escaped slaves to continue onward.



Until 1952 this was the private residence of Hulda Coleman, great-granddaughter of Graham Fitch. In that year she moved to New York City and after three generations the house was no longer in the Fitch-Coleman family. In 1952 the house was purchased by Kroeger Funeral Home which still owns the building and is one of the oldest original family-owned funeral homes in Indiana.
The Pop Up Art and History trail was funded through a Quick-Impact Placebased Grant from the Indiana Office of Tourism Development and the Indiana Office of Community and Rural Affairs.