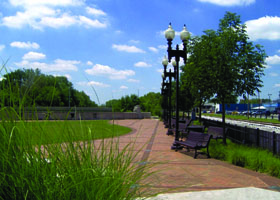 Welcome to the Cass County Visitors Bureau's Pop-Up Art and History Trail. Click play to begin
Little Turtle Waterway – 4th and Melbourne
The Little Turtle Waterway Plaza is at the intersection of three historic transportation systems – the Wabash River, the Wabash-Erie Canal and the Pennsylvania Railroad. The project is named for Chief Little Turtle of the Miami Tribe, which for a time controlled the entire Wabash River Valley. The Plaza at the end of Fourth Street provides access to the Wabash River, is a place for local gatherings and serves as a trail head for the riverbank trail system.
The Gateway was a railroad signal bridge that was originally on the west side of town. The four granite medallions in the brick piers were designed by a Miami tribal elder.
32 granite pavers in the Plaza pavement celebrate local stories, from the early Miami and Potowatomi residents, to French trappers, Irish, German, and Italian immigrants.
The cranes are the totem of Little Turtle's Miami tribe.
The limestone map shows how the Wabash River's watershed extends into our neighboring states.
The trail has "footprints" of two ice-age animals whose bones rest in Cass County – mastodon and giant beaver.
All of the trees that volunteers have planted are native, or native hybrids, while the lilies along the fence were developed by a famous Logansport gardener, Wilmer Flory.
These stories and more are in the Little Turtle Waterway Guidebook, which is available in the Depot and at the Cass County Historical Society Museum for $20.00.
The trail extends west to the confluence of the Wabash and Eel Rivers. East of the plaza and lawn area the trail follows the Old Lewisburg Road to 18th Street. Pillars and a seating bench were created from limestone block recovered from a home at 10th and Market Streets that was destroyed by fire in 2009.
The Pop Up Art and History Trail is presented by the Cass County Visitors Bureau in partnership with Logan's Landing, the Cass County Historical Society, the City of Logansport and Cass County Communication Network (published by Existential Media LLC) as a way to encourage residents and visitors to learn more about our community's history and local attractions.
The Pop Up Art and History trail was funded through a Quick-Impact Placebased Grant from the Indiana Office of Tourism Development and the Indiana Office of Community and Rural Affairs.