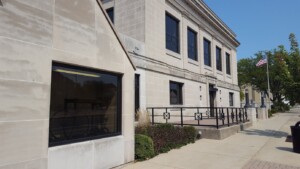 Welcome to the Cass County Visitors Bureau's Pop-Up Art & History Trail. Click play to begin.
Logansport-Cass County Public Library
616 E. Broadway
The first library in Logansport was kept in a log building on the north side of Market Street around 1837. Its location changed several times and around 1853, libraries were provided for townships. In the summer of 1890, a free reading room was opened in a store room at 321 Pearl Street, and in 1893, it was moved to the old Judge Stuart house at 618 Broadway, which had been purchased by city school trustees.
The Logansport Public Library opened in this site on November 1, 1894. In 1901, the school board purchased the Judge Biddle library, consisting of 8,000 volumes of rare books, for $5,500.
After famous industrialist & philanthropist Andrew Carnegie sold his steel company to J.P. Morgan in 1901, he began distributing his fortune. Through his philanthropy, 2,509 libraries were founded in the late 19th and early 20th centuries. Indiana constructed 164 Carnegie libraries in 155 communities – more than any other state.
Arrangements with Mr. Carnegie for $35,000 to build a new library building in Logansport were completed in 1901.
In the summer of 1904, work was completed on the new Neo-Classical Revival style library, made from Indiana Bedford Stone.
Twelve Cass County townships joined in 1918, and the library became known as the Logansport-Cass County Public Library. It's reported to be the oldest existing county library in Indiana.
In 1920, steel stacks were moved to the basement for additional room and an elevator was added. A mezzanine floor was installed in 1922 and enlarged in 1924.
In 1939, funds left to the library by Mrs. Ruth Winters were used to remodel the interior and add a balcony.
The library was rebuilt after a fire on St. Patrick's Day in 1941. The community celebrated the formal re-opening of the library on September 25, 1942.
A $150,000 addition to the library was completed in 1964, and a building project of approximately $110,000 was completed between 1970 and 1972.
The library purchased the adjacent Maiben Building in 1977 and in 1982, the annexation was completed.
An addition in 2002 added a curved staircase and skylight connecting a new seating area with a fireplace, a children's reading section and a new computer section. A later renovation added additional community meeting space.
The Pop Up Art and History Trail is presented by the Cass County Visitors Bureau in partnership with Logan's Landing, the Cass County Historical Society, the City of Logansport and Cass County Communication Network (published by Existential Media LLC) as a way to encourage residents and visitors to learn more about our community's history and local attractions.
The Pop Up Art and History trail was funded through a Quick-Impact Placebased Grant from the Indiana Office of Tourism Development and the Indiana Office of Community and Rural Affairs.