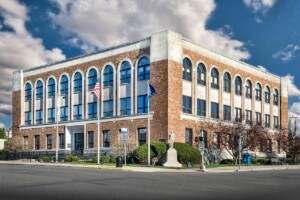 Photo by Rich Voorhees
Welcome to the Cass County Visitors Bureau's Pop-Up Art & History Trail. Click play to begin.
Logansport City Building
601 E. Broadway
The Logansport City Building is one of several structures built in the 1920s in Logansport when the city was experiencing its railroad heyday. It was completed in 1925 and remodeled in 1952.
The 1984 Interim Report on Cass County defined its architecture as "Notable" which would qualify it for inclusion on the National Register of Historic Places. Its interior was built with a faux stucco design.
For many years, before there was a Cass Superior Court I or II, the Logansport City Court was held on the third floor, by city court judges like Frank Tolbert, Kelly Leeman and Julian Ridlen, who went on to become state treasurer and later a Cass Circuit Court Judge.
As the late as the 1980s, the United Way of Cass County was located in the City Building, as was Big Brothers/Big Sisters of Cass County and Love, Incorporated, an interfaith initiative staffed by multiple denominations.
Before the Cass County Historical Society had its own building, it also was located in the City Building.
The structure is owned by the Logansport Municipal Utilities, which is owned by the city of Logansport.
Since its inception, the City building has been the downtown home for monuments to veterans. The Doughboy Monument facing the corner of Sixth and Broadway was the first monument and honored local soldiers who lost their lives during World War I; the late historian Barb Wolfe lobbied for a monument honoring local dogs that have served in wars, and this monument is located near the Doughboy monument. The World War II Honor Roll east of the City Building lists the names of local people who served during that war. Additional monuments are displayed in Veterans Freedom Park in LMU Park, a project of the Cass County Roosters, who have also worked on the restoration of the Soldiers and Sailors Monument in Mt Hope Cemetery, and the WWI Doughboy and the WWII Monument both located at the Logansport City Building.
A Logansport Vietnam Veterans Memorial donated by the Logansport High School Class of 1966 was dedicated on Memorial Day 2017.
The Cass County Veterans Council's annual Memorial Day and Veterans Day parades include ceremonies at both the Logansport City Building and the Cass County Government Building on 4th Street.
The Pop Up Art and History Trail is presented by the Cass County Visitors Bureau in partnership with Logan's Landing, the Cass County Historical Society, the City of Logansport and Cass County Communication Network (published by Existential Media LLC) as a way to encourage residents and visitors to learn more about our community's history and local attractions.
The Pop Up Art and History trail was funded through a Quick-Impact Placebased Grant from the Indiana Office of Tourism Development and the Indiana Office of Community and Rural Affairs.