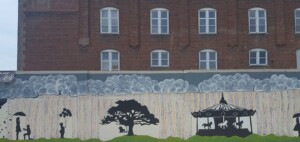 Welcome to the Cass County Visitors Bureau's Pop-Up Art & History Trail. Click play to begin.
"Rainy Play"
400 block of East Broadway
Located in the Pocket Park in the 400 block of East Broadway, the mural entitled "Rainy Play" was completed in the summer of 2016 by students from the Logansport High School Art Department. The mural's theme, chosen by the students, is the National Historic Landmark Dentzel Carousel, located in Logansport's Riverside Park. The vignette at the south end of the mural, "the Proposal," is a nod to the owner of the building on which the mural is painted, Derek McGuire, who owns and operates Fernbaugh's Diamonds & Fine Jewelry. Mr McGuire donated all of the prep work to make the outer wall of his business suitable for the painting of the mural.
Proceeds from the "Dancing with Our Stars" event funded both the pocket park and mural. The park also includes the "Infinite Seduction" sculpture created by artisan Mac Worthington and 3 art panels by Logansport native Hugh Leeman.
Additional pocket parks are located in the 300 block of East Market Street on the north side of the street, and in the 300 block of Broadway on the south side of the street.
Look for more works of public art, along with the colorful Logan's Landing arts & design district signage, throughout downtown Logansport, which encompasses the area between the rivers, from the confluence to 8th Street.
The Pop Up Art and History Trail is presented by the Cass County Visitors Bureau in partnership with Logan's Landing, the Cass County Historical Society, the City of Logansport and Cass County Communication Network (published by Existential Media LLC) as a way to encourage residents and visitors to learn more about our community's history and local attractions.
The Pop Up Art and History trail was funded through a Quick-Impact Placebased Grant from the Indiana Office of Tourism Development and the Indiana Office of Community and Rural Affairs.