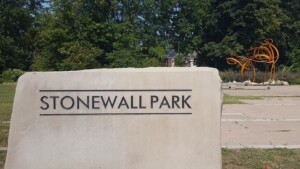 Welcome to the Cass County Visitors Bureau's Pop-Up Art & History Trail. Click play to begin.
Stonewall Park was completed in 2012 to serve as a trailhead for the Eel River Run but the stone wall itself was first constructed in 1894. The wall is a reminder of the flood threat to Logansport created by both the Wabash and Eel Rivers and Goose Creek. The greatest flood in the City's history was in 1913 when one-third of the city was under water and 1,200 families had to flee their homes as the Eel River reached a height of 25 1/2 feet.
The "Orange Grasses" sculpture was created by an Indiana blacksmith named Jack Brubaker.
"Smithing" is a metalworking technique that can achieve thin, strong shapes that are impossible with casting. You can see the hammer marks on the sculpture. Logansport is home to factories that use assorted advanced metal working techniques to provide hundreds of jobs making products like springs and wheels. Stonewall Park is maintained by the county.
East of the "Orange Grasses" sculpture are the remains of the Wabash & Erie Canal's Aqueduct No. 5, completed in 1840.
The Pop Up Art and History Trail is presented by the Cass County Visitors Bureau in partnership with Logan's Landing, the Cass County Historical Society, the City of Logansport and Cass County Communication Network (published by Existential Media LLC) as a way to encourage residents and visitors to learn more about our community's history and local attractions.
The Pop Up Art and History trail was funded through a Quick-Impact Placebased Grant from the Indiana Office of Tourism Development and the Indiana Office of Community and Rural Affairs.