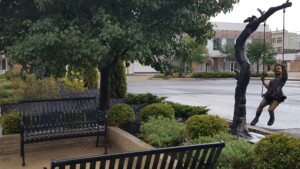 Click play to begin
You've likely noticed the colorful "Logans Landing Arts and Design District" signs on lightpoles downtown.
In 2010, Logan's Landing began an initiative that was spearheaded by Kathy Dingo and Pam Leeman to raise funds for developing and maintaining an arts district within the downtown area, but Logansports artistic heritage began many years earlier.
George Winter was the pioneer painter in Cass County. He was born in England in 1810, studied in the Royal Academy of London, came to New York and then located in Logansport in 1837. He painted many portraits of Cass County pioneers, of the Miami and Potawatomi chiefs and of Frances Slocum. Winter also painted the Battle of Tippecanoe and a number of landscape views on the Wabash.
Wils Berry was a Cass County native born in Miami Township in 1851. Over ten years, he traveled to more than 30 states, sketching landscapes and animals for New York and Chicago publications.
The Logansport Art Association, located across the river from the downtown district, was founded in February 1911, "to create and develop the artistic taste and encourage its growth among our people." It is the oldest art association in Indiana.
Today, Logansport is home to a variety of artists and arts organizations, including the Cass County Arts Alliance, Performing Arts Council, Civic Players of Logansport, Junior Civic Theater and the Logansport Children's Choir.
In 2014, this pocket park was installed in memory of Kathy Dingo, who passed away in 2013. The "Girl on a Swing" scuplture featured here and "Boy and Girl on a Trike," located north of The Depot at 4th and Melbourne, were purchased through a memorial fund created in her honor. Both sculptures were loved by Kathy and are a tribute to her tireless efforts in beautifying our downtown.
The Pop Up Art and History Trail is presented by the Cass County Visitors Bureau in partnership with Logan's Landing, the Cass County Historical Society, the City of Logansport and Cass County Communication Network (published by Existential Media LLC) as a way to encourage residents and visitors to learn more about our community's history and local attractions.
The Pop Up Art and History trail was funded through a Quick-Impact Placebased Grant from the Indiana Office of Tourism Development and the Indiana Office of Community and Rural Affairs.