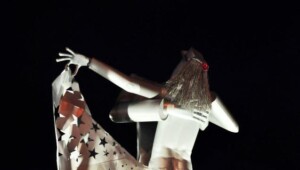 Click play to begin.
'The Dancers' statue was installed in the Market Street pocket park in July 2012. Standing approximately 14 feet tall and made of steel, the statue was designed by local artisan Jim Galbreath.
The statue was purchased with funds donated during the first "Dancing with Our Stars" event hosted by Logan's Landing in 2010. This event was the vision of two local champions of the Logan's Landing Arts and Design District, Pam Leeman and Kathy Dingo. "Dancing with Our Stars" was held in 2010, 2011, 2012 and 2014 for the sole purpose of raising funds to create an arts district, complete with signage, pocket parks and public art in downtown Logansport.
The granite "Stars Walk of Fame" in the sidewalks adjacent to the Dancers statue recognizes all of the community members who participated in "Dancing with our Stars."
Look for the colorful Logan's Landing Arts & Design District signage on light poles throughout the downtown area. North of this location are two additional pocket parks – one in the 400 block of Broadway on the north side of the street, and one in the 300 block of Broadway on the south side of the street."
The continued development of the art district will enhance and beautify Logansport and improve the quality of life downtown. Development of the downtown arts & design district improves Logansport's curb appeal, making our community more attractive to residents, visitors, and potential investors.
Look for additional works of public art throughout the downtown district, which encompasses the area between the rivers, from the confluence to 8th Street.
The Pop Up Art and History Trail is presented by the Cass County Visitors Bureau in partnership with Logan's Landing, the Cass County Historical Society, the City of Logansport and Cass County Communication Network (published by Existential Media LLC) as a way to encourage residents and visitors to learn more about our community's history and local attractions.
The Pop Up Art and History trail was funded through a Quick-Impact Placebased Grant from the Indiana Office of Tourism Development and the Indiana Office of Community and Rural Affairs.