Weddings
Family and friends will gather, tears will be shed, and vows will be quietly spoken. Your first kiss will be captured forever. Whether you hold your ceremony in one of our many community churches, or in a gazebo at a community park, Cass County can offer you the picturesque beauty that you have been dreaming of since that special someone popped the question.
Plan Your Wedding
Getting married in Cass County? Good choice!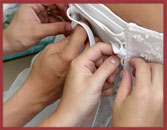 Although the festivities may only be a day long, planning your wedding could take months! We've gathered information to make planning your special day as easy as we could – the rest is still up to you, though.